Get That Yuletide Feeling With These DIY Crafts for Your Kids
Posted on 27 November 2016
Kids normally jump up for joy whenever you hand them down any coloring or recreational materials they would like to begin with. As the holiday season is coming, it will also be a big jumpstart for their creativity and artistry to introduce them with some do it yourself tricks towards that Yuletide feeling.
We as parents will be keen with the details of Christmas decorating but we need to loosen up a bit and give chance to the inner ideas of our kids and let them put up the show.
Snowman Playdough
Kids are so into clay nowadays that they could easily come up with various shapes and designs out of it. They end up testing your own creativity as well. Just a few of the following materials and you are all set to make your own Snowman Clay right underneath your Christmas tree.
You'll need:
Playdough or Oven Baked Clay
Small Twigs
Parchment Paper
Black Permanent Marker
Decorating Ginger Bread House
Stores nowadays sell GingerBread House Kits that go. with pre-baked ginger bread house pieces, royal icing sugar, piping bags and an assortment of beautiful decorations that your kids will literally enjoy putting up together. It is commonly, beautifully packed with easy-to-follow instructions just perfect enough for that winter afternoon after the kids' nap time.
Personalized Christmas Cards
These are normally the easiest ones that you can leave with the kids by themselves. Just lay for them all the cardboards and all those coloring materials and let their imagination for this yuletide season spark right away. You can also provide them with holiday images of reindeers and pine trees as their sample images.

If you want to have a more personalized touch of the cards, you can snap a few images of your family or of the kids with your dogs and print a few copies. Have them pasted to the cards by your kids and they can serve as Christmas card wishes for your relatives and friends!
Matchbox Gifts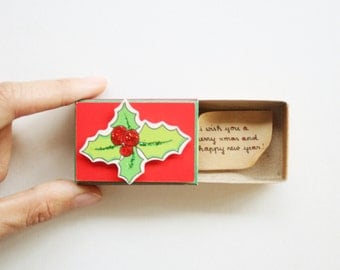 This one is relatively more easier to do in a bunch. Kids can decorate it in anyway they want, give them to classmates and friends with a holiday note or treat.
What you need:
Matchbox
Colored/decorative Papers
Stickers
Pair of Scissors and glue
Pens for dedications
Candy Jars
Oh the joy of those colorful candy jars to be given away to their baby-sitters, neighbors and even to their teachers!
You can put labels on the jars and have your kids draw directly to these cut labels.  A few words of holiday wishes will also do or any other cute illustrations  related to the receiver to be attached will just be one of the sweetest things for keeps.
Crocheted Candy Garlands
Using candies and yarn can brighten up the Christmas tree or any nooks in your house that need a cheer up for the holiday season. Just watch out for the kids not to eat much of the candies and that you have to reserve them for a little more longer. Just tie each ends of the candies with the knot and you are good to go decorating them with the kids!
What you need:
Candies
Colorful Yarn
Pair of Scissors
Final Thoughts
There are actually a whole lot of traditional and more creative ideas you can share with the kids as long as you give them simple, proper instructions but still enjoying doing one craft at the same time.
Just let their creativity flow and see the results by yourself. After all, a child's ideas are more often candid and should not be under estimated and therefore appreciated.
Lastly, DIYs such as these are definitely a way of discovering new set of skills for them plus spending extra memorable time this yuletide season.